VirtualBox only showing 32-bit and no 64-bit versions (easy fix)
Are you only seeing 32-bit versions and no 64-bit versions of operating systems as options while creating a new virtual machine in Oracle's VM VirtualBox?
Even when your host operating system is 64-bit?
Then you are on the right page because this tutorial will show you step by step how to solve this problem.
But first:
I experienced the same problem while trying to install Linux Mint (64-bit) inside VirtualBox.
I opened VirtualBox, clicked on NEW, entered a name for the virtual machine, choose the type of operating system, but when I wanted to choose a version, I only saw 32-bit versions and NO 64-bit versions as an option.
But:
Fortunately, I found a simple solution online and on this page, I will share that solution with you.
Note! Your host operating system (OS installed on your PC) must be 64-bit.
I was using a 64-bit version of Microsoft Windows 10 Pro while creating this tutorial.
And now:
Simple fix for the "VirtualBox only showing 32-bit and no 64-bit versions" problem
1. Right-click on the installer file (the one you used to install VirtualBox) and choose Run as administrator.
If you don't have the installer file anymore, then you will need to download it from the VirtualBox website (www.virtualbox.org). The installer file must be the same version as the version of VirtualBox that's installed on your computer.
2. When the Windows User Account Control window appears, you click Yes.
Note: You might need to enter an administrator password in the User Account Control window and then click Yes.
A setup window will appear.
3. Click on Next.
4. Click on the Repair icon.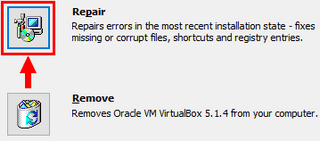 5. Click on Repair located at the bottom right.
VirtualBox will now start the repairing process. This will only take a few seconds.
6. After the repair process is finished, you click on Finish.
VirtualBox may ask you to restart your PC.
That's all. Hopefully, this simple solution will solve your problem.
---
References:
DIYTechGuides: VirtualBox has no 64-bit option on Windows 10 (5 solutions)