How to Remove Hardcoded Subtitles from MKV Video Files
This tutorial will show you step by step how to easily and quickly remove hardcoded subtitles from MKV video files without cropping and converting.
(Hardcoded subtitles are embedded in the video / movie).
Related: How to Merge Subtitle Files with MKV Video Files
How to Delete Hardcoded Subtitles from a MKV Video File using MKVToolNix
MKVToolNix is a handy set of free tools to create, alter and inspect MKV video files.
You can download MKVToolNix here (official website).
1. Open MKVToolNix.
2. Click on the "+ Add source files" button located at the bottom.
3. Go to the .mkv video file located on your computer.
4. Select the video file.
5. Click on "Open".
6. In the "Tracks, chapters and tags" panel, you uncheck (deselect) subtitles.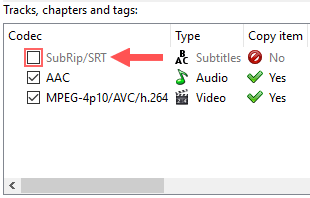 Make sure that the video and audio stay checked (selected).
7. At "Destination file" located below the "Tracks, chapters and tags" panel, you can view and/or change the location on your computer where the new MKV video file will be saved.
8. When you're ready, you click on the "Start multiplexing" button located at the bottom.
MKVToolNix will now create a new MKV video file, but without the hardcoded (embedded) subtitles. This process is fairly quickly, because it doesn't convert the video. It only creates a new video file without subtitles.
Maybe you're also interested in: