What data can a thief get from a stolen Android phone?
This article explains what data a thief can get from a stolen Android phone. And what you can do to prevent someone from getting access to the data stored on your phone.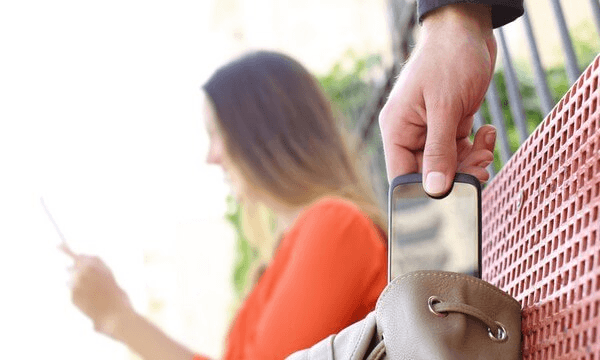 Business is not slowing down for phone thieves, especially since mobile devices are becoming more and more advanced, making it pretty easy for thieves to make a living.
It's bad enough to experience phone theft, but what about all your personal data?
Do you have the necessary precautions in place for protecting your personal data if someone steals your Android device?
Most of us don't really protect our data against theft, because we either don't know how or hope that it won't happen to us.
Don't worry, there are some excellent ways to protect your Android phone data and prevent losses, so read on.
What data can thieves get from a stolen Android phone?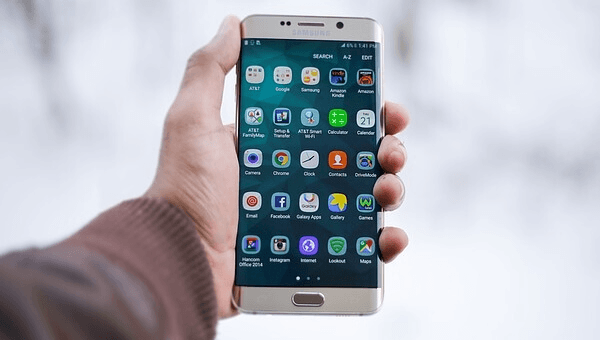 If your Android phone gets stolen, you'll easily get a new one.
But:
What about all your data?
There's a lot of sensitive information that could easily fall into the wrong hands.
Your phone stores a lot of personal stuff, such as text messages, photos, videos, emails, and documents.
That's not something you want prying eyes to look at, but there's another much more serious matter ‒ your credit card details.
If you store those details in your phone, you certainly don't want anyone other than you to access them.
If you're automatically logged into your bank account or PayPal account, then a thief might end up emptying them.
A potential thief could even steal your identity, which is yet another reason for protecting your Android phone.
What preventive measures can you take?
Modern Android phones with Android 7.0 Nougat, or newer versions, come with default encryption. This means that your phone requires a PIN or a password every time it's turned on.
What's more, you now must enter your PIN or password once every three days. It's excellent protection against data theft.
However, you must use a strong PIN or password, which means that 1234, 13579, 9876, 1234567, 12345678, 123456789, 111111, password, sunshine, or abc123 simply won't cut it.
Such weak PIN codes and passwords are very easy to guess, so you must use something more secure to effectively safeguard your data.
Apart from a strong PIN or password, there are several more ways you can protect your phone data.
1. Secure your phone's lock screen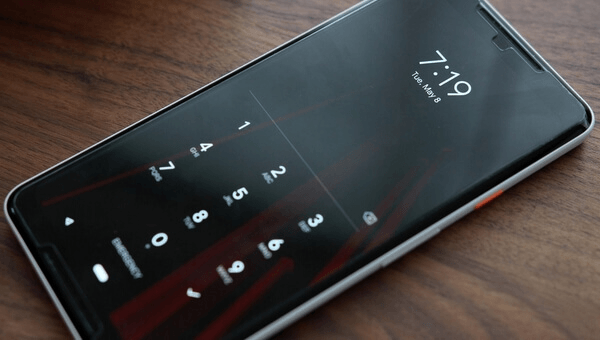 Apart from enabling a secure start-up, you should secure your lock screen.
Many phones now have a fingerprint scanner, which is very convenient for users. In a fraction of a second, you can unlock your phone and use all your favorite apps.
However, you should avoid swiping gestures for your lock screen, as many people tend to use similar ones and patterns repeat. Thus, thieves have a broad pool of option to choose from.
Instead, use either your PIN or a very strong password.
2. Hide notifications from your lock screen
Even if a potential thief cannot unlock your phone, they may discover valuable information from your notifications.
If a notification containing sensitive data pops up on your lock screen, they would be able to misuse that information.
That's why you should hide all notifications from your phone's lock screen.
Very few of us do this because it's much more convenient to instantly see everything we receive.
However, when privacy and security are in question, there's nothing you shouldn't do.
The steps to hide notifications from your phone's lock screen can vary by device.
On some Android phones, you can hide notifications from your phone's lock screen by following the steps below.
1. Open Settings.
2. Tap on Sound & notification.
3. Tap on When device is locked or Lock screen.
4. Tap on Don't show notifications at all.
On other Android phones, you can do it by following the next steps.
1. Open Settings.
2. Tap on Notification & status bar.
3. Tap on Notification management.
4. Tap on the gear icon in the upper right corner.
5. Tap on the When device is locked option.
6. Tap on the don't show notifications at all option.
Or by following the next steps.
1. Open Settings.
2. Tap on Lock screen and security.
3. Tap on Notifications on lock screen.
4. Tap on the Content on lock screen option.
5. Tap on Hide content.
And:
On a Samsung Galaxy phone with Android 7 and Android 8, you can hide notifications from your phone's lock screen by following the steps below.
1. Open Settings.
2. Tap on Lock screen (Android 8) or Lock screen and security (Android 7).
3. Tap on the toggle button next to Notifications.
3. Lock your apps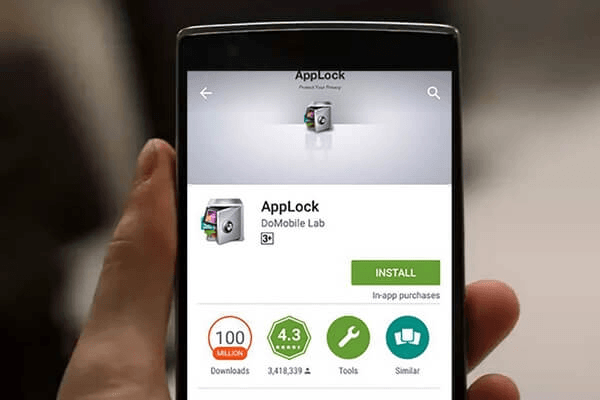 Having multiple security layers is the best way to protect your phone and prevent data losses.
That's why you shouldn't stop at your lock screen.
You can individually lock all your apps and effectively impede data theft.
There are many good tools for locking your Android apps.
One of the most popular is AppLock, which you can find on Google Play.
It lets you choose a fingerprint, a PIN, or a pattern to secure your apps.
You can even prevent taking phone calls or managing apps without a PIN code or password.
4. Always log out of your accounts
Just like not showing notifications on your lock screen, logging out of all your accounts isn't something convenient.
You want instant access to your accounts whenever you need it, so why log out every time?
Security, that's why.
Typing your usernames and passwords every time can be a pain in the neck, but it's worth it.
If someone steals your phone, and somehow unlocks it, they'll easily access your emails, social media, and bank accounts.
Don't stop at your email, social media, and payment apps. Log out of every single website you have an account on, such as e-commerce sites.
A thief could easily get into your accounts by getting in touch with customer support. That's why you should also avoid autofill options for signing in.
5. Use a VPN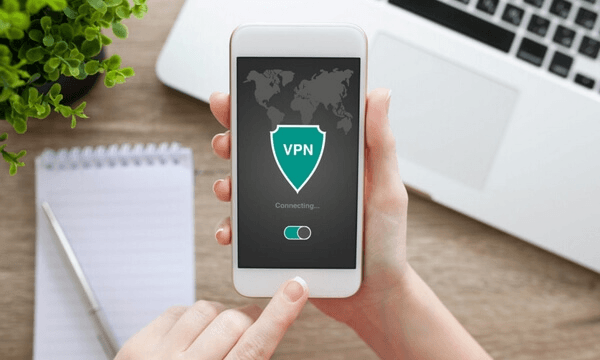 A VPN can additionally protect your data and sensitive information, especially when you use a public Wi-Fi.
It will encrypt all your internet traffic and hide your online activities, concealing your IP address from your network provider.
Even if you always log out of your accounts, that may not protect you.
A potential hacker could monitor your online activity to find out your usernames and passwords.
With a good VPN, they won't be able to do so.
Since a VPN encrypts everything, they cannot gain access to any of your accounts, nor steal or misuse your data.
Four examples of well-known VPN services are:
6. Use a password manager
You could take your security a step further by using a password manager.
You may think that your made up password is strong, but hackers use advanced software to crack passwords, so they could easily get access to your data.
With a password manager, you will have one master password to access all your accounts.
What's more, it will generate strong passwords for all the accounts and store them in an encrypted database. That way, you won't have to remember them.
You'll only need to remember the master password.
This may not seem safe, but it is, as long as you use a strong master password.
The password manager that I use on my phone is Keepass2Android.
I use this password manager app because it is compatible with the database from KeePass (the password manager I use on my PC).
7. Use a phone finder app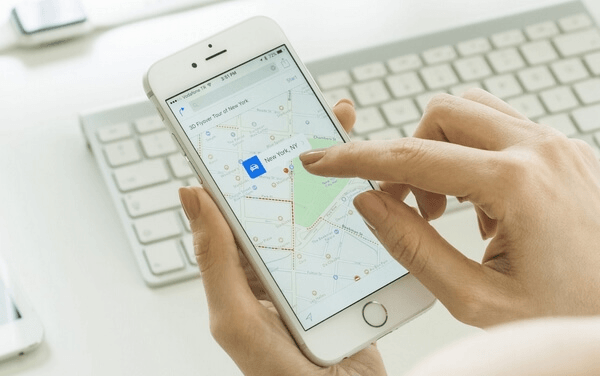 Using a phone finder app is one of the best ways for locating your phone if it ever gets lost or stolen.
What's more, those apps let you lock your phone remotely and even wipe all your data. Some even have remote camera control, which can help you find the potential thief.
There are quite a lot of phone finder apps out there, so you should harness their power.
Once you install one, make sure you enable all the important features it offers. Those include locating and locking your device remotely and erasing your data.
There are many more options, but these are the most essential to enable immediately.
The most popular phone finder apps are Google's Find My Device, Where's My Droid, Cerberus, Lookout, and Prey.
You can find them all on Google Play.
Here's a brief description of each to help you learn how they can be of help in case your Android device gets stolen.
1. Find My Device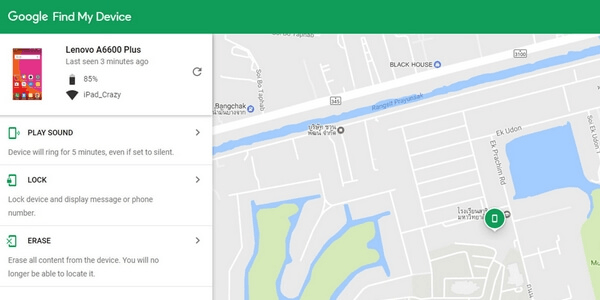 Find My Device is Google's free solution for tracking your phone and instantly seeing its exact location on the map at any time.
The app is connected to your Google account, so there's no need to install it separately. You can find it on Google and use it once you log into your Google account on any device.
Once you do, make sure you go to Settings and enable the Find My Device option. You also need to turn on your device's location and allow the app to access it.
You then have three options for finding your phone and securing your data.
You can enable the Play Sound option, which will make your phone ring for 5 minutes, even if the sound is off.
You have the Secure Device option, which locks your device and signs you out of your Google account.
You can also type a particular message or phone number that will appear on the lock screen.
That way, if a good Samaritan perhaps found your lost phone, they could call you and return it.
The third option to enable is Erase Device, which allows you to wipe all your data remotely. You should use it as a last resort because you cannot locate your phone after deleting all its data.
Nevertheless, it's a smart option to use if you cannot find your phone, as it will prevent anyone from accessing your sensitive information.
Unfortunately, you cannot delete the data on your SD card that way. Also, you cannot wipe your phone if its battery has run out or a thief turned it off.
However, if and when someone turns it on, Google's Find My Device will erase all the data.
2. Lookout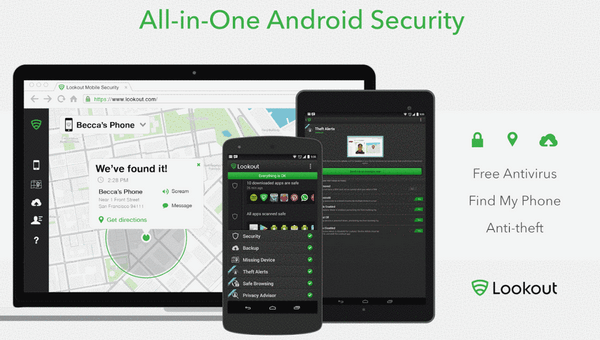 Lookout is another cool app that includes all the necessary features for finding your lost or stolen phone.
It shows your phone's location on the map and sends you a GPS flare when the battery is low. It can sound a loud alarm, and it lets you lock and wipe your phone remotely.
If someone tries to unlock your phone or performs any other suspicious behavior, the app will take and send you pictures.
This is a very reliable app for finding your phone and protecting your data.
This app also comes with antivirus and various other advanced security features.
3. Prey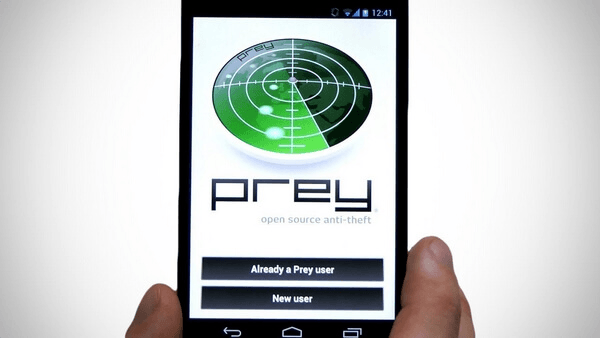 Prey comes with all the basic phone finding and security features.
It includes locating your device, locking it remotely, sounding a loud alarm, and displaying a custom message on the lock screen.
It also takes pictures on the perpetrator, shows you nearby Wi-Fi, and notifies you of activity logs.
The app's free version includes these essential features and lets you track up to 3 devices.
However, its paid versions enable you to wipe your phone and retrieve any files you need.
There are three paid versions: Personal, Home, and Enterprise.
For Enterprise, you'd have to request a quote and get a personalized plan.
4. Where's My Droid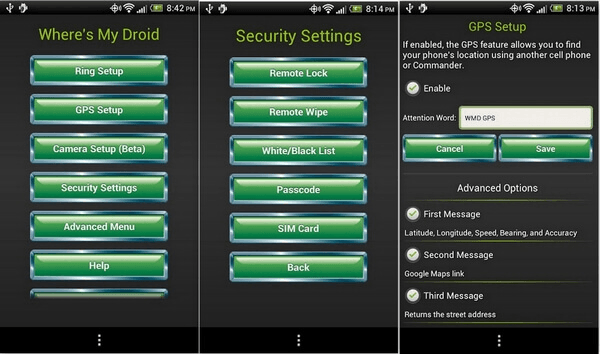 Where's My Droid is another fantastic phone finder app you should try.
It has the basic GPS locating feature, can lock your phone remotely, and set it to ring even when silent.
However, it comes with many more cool features.
It can send a GPS flare when your device is on low power, and take selfie pictures if someone fails to unlock your phone.
It can also detect theft and send you an email. It does so if someone tries to unlock the screen, remove your SIM card, uninstall an app, or attach a USB cable.
You can also view nearby Wi-Fi, and contact and call logs, as well as wipe your SD card.
It's free for some basic features but extremely affordable for other functionalities, and it's more than worth every dime.
There are Pro and Elite versions.
5. Cerberus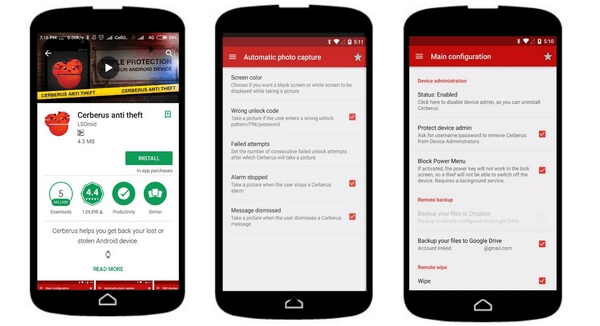 Cerberus may be the one phone finder to rule them all.
It has all the features of your usual phone finder, but also several more that make it stand out.
You can locate and lock your phone remotely, and enable a loud alarm even if your phone's set to silent.
You can wipe both the phone and the SD card, and display a custom message on the lock screen.
You can also view your phone's location history and call logs, and nearby Wi-Fi.
If a thief tries to unlock the phone, or change the SIM card, the app will take pictures of the thief.
However, this app will also record audio, and record videos of the thief.
This app also enables you to back up your data.
---
Keeping your Android phone safe in your pocket and protecting your data from theft is very important.
Your phone stores a lot of personal stuff, not to mention your sensitive information, such as credit card details.
That's why it's crucial to take all these necessary security measures, so be sure to apply these tips as soon as possible.
---