How to play VIDEO_TS on a Windows, Linux and macOS PC
This tutorial will show you how to play VIDEO_TS folders and files on a Windows, Linux, and macOS PC using VLC media player.
A VIDEO_TS folder is a Video DVD folder that contains three types of VIDEO_TS files that are required to play Video DVD movies. The three files are VIDEO_TS.VOB, VIDEO_TS.IFO, and VIDEO_TS.BUP.
VIDEO_TS.VOB contains video and audio data. VIDEO_TS.IFO contains information like a DVD menu, subtitles, etc. VIDEO_TS.BUP contains a backup of the information.
Sometimes there's also an AUDIO_TS folder that contains Video-DVD audio files, but usually, this folder is empty.
How to play VIDEO_TS on a PC with VLC media player
VLC media player is a free and open-source cross-platform multimedia player for Microsoft Windows, Linux, and macOS. It plays most video and audio files, as well as DVDs, Audio CDs, VCDs, and VIDEO_TS folders and files.
Steps
1. Open VLC media player.
2. Click on Media located in the top left corner.
3. Click on Open Folder.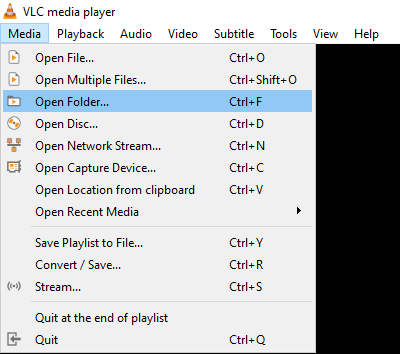 4. A small window will open. In this window, you go to the VIDEO_TS folder on your PC.
5. Select the VIDEO_TS folder.
6. Click on the Select Folder button.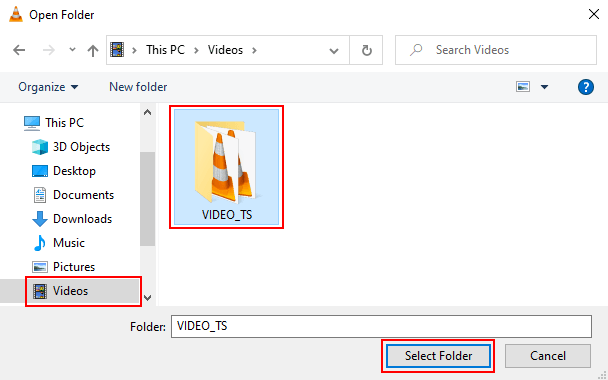 VLC media player will start playing the VIDEO_TS folder and files.
When there's a DVD or when there are multiple chapters, you can use the next and previous buttons to navigate through the menu or chapters.

---
---
Related:
How to play a video frame by frame in VLC media player