Computer virus: types, symptoms, protection and removal
On this page, you will learn everything you need to know about the types, symptoms, protection, prevention, detection and removal of computer viruses.
This article is the result of several well-known sources.
What is a computer virus?
A computer virus is a type of malware (malicious software or code) that is designed to spread from computer to computer and perform harmful activities such as corrupting and disrupting systems or destroying data. (1)
Computer viruses can also copy (duplicate) themselves.
Computer virus types
A list of well-known computer virus types:
Computer virus symptoms (signs)
A few computer virus symptoms are:
Computer and/or internet suddenly slower
Computer behaves weird
PC freezes and crashes a lot
Unusual error messages appear
Files have been automatically deleted or added
Unwanted advertisements appear
Emails have been sent from your account to your contacts (which you know you didn't sent)
Sudden hardware problems (e.g., display acting weird)
Antivirus software and/or its shields are turned off automatically
PC automatically restarts (reboots) by itself
Computer virus prevention tips
Keep your operating system and software always up-to-date
Use a firewall
Use antivirus software
Don't ignore security warnings from Windows or your antivirus software
Don't install and use pirated software
If you don't use Java, then remove or disable it
Don't click on OK, Yes or Run when a pop-up window appears and ask you to install unknown software. Here's one example: "Your windows computer could be at risk! Install this repair tool to protect and clean your system by clicking Secure Now as soon as possible" Don't fall for this trick!
Before you want to install free software (freeware) first check if its reliable by reading reviews about it
Always download software from the official link or from a trusted website
Don't click on a link (in emails or web pages) if you don't trust it.
Use a secure and safe web browser like Google Chrome or Mozilla Firefox and keep it updated
When installing software, always pay attention and always read everything clearly before clicking Next, OK, Install, Continue, etc.
Microsoft recommends that you disable SMB1 on Windows for security reasons.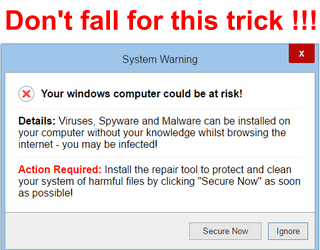 Computer virus protection
The BEST protection against computer viruses is YOU.
Look:
You can have the best protection there is, but even the best antivirus software can fail to detect new malware (e.g., computerviruses, ransomware, spyware, etc.). (8)
Malware threats grow so fast, that antivirus programs take too long to catch up with malware (even the best free or paid ones). (9)
Therefore, the best protection is yourself.
If you do any of the following:
Ignore Windows and software updates
Don't use antivirus software
Use pirated software
Install free software without checking if it's reliable
Click on every link you see
Ignore security warnings from Windows or antivirus software
Click on buttons in pop-up windows that appear
Then there's a good chance that your PC will get infected one day.
Antivirus software
It's recommended to always use an antivirus program on your PC – even when antivirus software can't protect your computer against all viruses.
It's better to have some protection than no protection at all.
You should only use one antivirus program on your computer.
The free antivirus programs I recommend are:
If you need more functions (e.g., multi-layer ransomware protection) and settings, then you can try a paid antivirus program.
Most antivirus companies offer the option to download and try their paid antivirus programs for free for 30 days.
The paid antivirus programs I recommend are:
Bitdefender and Kaspersky always have top results in antivirus tests, like AV-TEST and AV-Comparatives.
Free second opinion virus scanners
It's also recommended to use second opinion virus scanners to get more complete detection coverage, because some programs may detect viruses that others might miss.
The free second opinion virus scanners I recommend are:
You can use these scanners to scan your PC periodically (e.g., once a week) or when you think your PC is infected.
You can use virus scanners alongside your current antivirus software. This way you get the chance to use other antivirus software on your PC without any problems.
Computer virus detection and removal
I will show you how to detect and how to get rid of a computer virus for free.
Step 1: Delete temporary files
Deleting your temporary files can speed up the scanning process and also free up disk space.
You don't need to install any extra software, because Windows has a built-in tool called "Disk Cleanup".
1. Open Windows Disk Cleanup.
Three ways to open this tool:
Go to the Windows search bar and search for cleanup and click on Disk Cleanup when it appears.
Press the [Windows] + [R] key on your keyboard, enter cleanmgr.exe, and then click on OK.
Open Windows Explorer or File Explorer (Windows 10), right-click on the (C:) drive, choose Properties and then click on Disk Cleanup (located in the General tab).
2. Select the Windows drive (when asked for and if not already selected).
(C:) is the default installation location for Windows.
3. Click on OK.
The tool will now calculate how much disk space you will be able to free on your system drive.
4. Select the type of files you want to delete. I always select everything.
5. Click on OK.
6. Click on Delete Files.
This may take a while. The time it takes depends on how many files need to be deleted. When it's finished the tool will close by itself.
Step 2: Full system scan with your antivirus software
Look:
Your antivirus program may have missed the malware that has infected your PC the first time.
But:
Antivirus companies update their virus definitions hourly, daily or weekly, so it's possible that the malware (computer virus) that has infected your PC has been added in the last update.
First, update your antivirus software and then run a full system scan with the program.
Step 3: Malwarebytes
You can download Malwarebytes here (note: to download the free version, you will have to scroll down to the bottom of the page and then click on DOWNLOAD 14 DAY TRIAL. You will get the premium version for the first 14 days and after the 14 days it will turn into the free version – which is an on-demand malware scanner).
When you install Malwarebytes it will automatically enable a two-week trial version of the premium version, but if you don't want the two-week trial, then you can easily disable it in the settings.
Enable the "Scan for rootkits" option
You will only have to change the following setting once.
1. Start Malwarebytes.
2. Click on Settings (located on the left).
3. Click on Protection (located at the top).
4. Go to Scan Options.
5. Enable Scan for rootkits.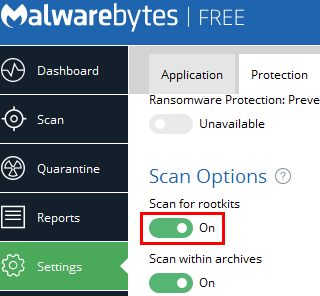 Scan for Malware
1. Open Malwarebytes.
2. Click on Scan Now.
Malwarebytes will now scan your computer for viruses and other types of malware. This process can take up to 15 minutes.
When the scan is completed it will show you the results of the scan.
3. If something is found, you click on Remove Selected.
Malwarebytes may ask you to restart your PC.
Step 4: Kaspersky Virus Removal Tool
You can download Kaspersky Virus Removal Tool here.
1. Start Kaspersky Virus Removal Tool.
2. Accept the End User License Agreement.
3. Click on Change parameters.
4. Select System drive and click on OK.
5. Click on Start scan.
Kaspersky will now scan your computer for viruses and other types of malware. This process can take up to 40 minutes.
When the scan is completed it will show you the results of the scan.
6. If something is found, you click on Continue.
Step 5: ESET Online Scanner
You can download ESET Online Scanner here.
Click on SCAN NOW to download this tool.
1. Start ESET Online Scanner.
2. Accept the Terms of Use.
3. Choose between:
Enable detection of potentially unwanted applications
Disable detection of potentially unwanted applications
4. Click on Scan.
ESET will now scan your computer for viruses and other types of malware. This process can take up to 40 minutes.
When the scan is completed it will show you the results of the scan.
5. If something is found, you choose one of the following options:
Select the threats you want to delete and click on Clean selected.
Click on Clean all.
6. Now you will have the Delete application's data on close option (optional).
7. Click on Finish.
That's all. Hopefully, you learned enough about computer viruses to keep your PC clean and safe. If you want to learn more about computer and Internet security (cybersecurity), then visit this page.
---
Maybe you're also interested in:
How to get rid of malware (virus) on your Windows 7, 8 or 10 PC
Malware: types, protection, prevention, detection and removal
Important computer and internet security tips
Windows 10 security tips and is Windows Defender good enough?
---
References:
Webopedia: Memory resident virus
LastLineLabs: Antivirus isn't dead, it just can't keep up