How to choose a NAS device for your home
The home network storage market can already be considered quite settled. A few years ago, you could find NAS devices mostly in small or medium companies. But nowadays, such devices are increasingly found in the homes of modern families.
Since network storage devices of different brands and models can perform various functions, you should take your time to choose your first NAS and take the pros and cons of a given model into account.
This article doesn't contain any comparison of NAS devices but provides information and tips on choosing a NAS device for your home.
But first of all.
What is a NAS?
A NAS (Network Attached Storage) is a file storage device connected to a network. And because it's connected to a network, multiple people can access the data stored on it.
Usually, a NAS device consists of several drives (although, there are 1-bay models) that are combined into a single storage by means of the NAS operating system.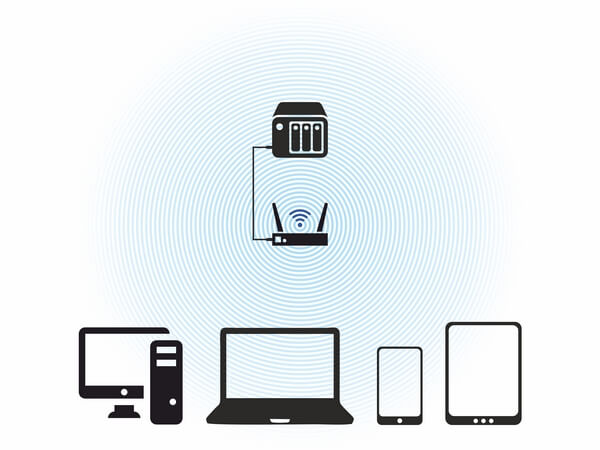 Why you might need a NAS?
The set of available functions affects the price a lot, so you should clearly understand for what purpose you need a NAS.
Talking about the home usage of a network storage device, you may need a NAS for:
Storing files that any family member or device can access
Storing backups of your files or system images
Storing video files from your video surveillance system
Different purposes require different NAS capabilities.
If you want to store video files from your video surveillance system, you should choose a NAS with an IP video surveillance server function. In this case, the NAS will provide video recording and playback of data from the IP camcorders that are on the same network.
It's still important to have the ability to expand the storage on the fly — this makes the video surveillance process continuous.
If you want to use a NAS as a centralized home storage hub for playing movies, TV series, homemade videos, documentaries, or other videos, you should choose a model that supports UPnP/DLNA standards allowing you to organize the transfer of audio and video streams from the NAS device to a TV, media player or stereo system.
If you want to use it for storing backups of your files or system images, you can choose a simpler NAS model.
How many drives do you need?
NAS devices can accommodate a different number of drives: 1, 2, 3, 4, and up to 16.
There are storage devices with much more disk bays, but these devices are not pure NAS but so-called rackmount servers.
2-5 bay NAS devices are a good choice for home users.
The number of disk bays affects the maximum storage capacity and the supported RAID levels.
RAID (short for Redundant Array of Independent Disks) is a technology allowing the combination of several hard drives into a single storage. Typically, the more disks are in the device, the more RAID layouts the NAS supports.
For 2-bay NAS devices, you can choose between JBOD, RAID0, or RAID1; 3-disk NAS devices support JBOD, RAID0, RAID1, and RAID5; in 4-bay and more NAS devices, the list expands to RAID6 and RAID10.
Different RAID levels provide different performance in terms of read/write operations and the level of fault tolerance, that is, how many disks can fail without data loss.
The topic of RAID levels is too broad for this article, so if you want to learn more about RAID levels, you can read more about it on Wikipedia or Deft.com.
How to choose the RAID type
For a 2-drive NAS, choose RAID-1 (sometimes called mirror) because this is a redundant array type meaning that you won't lose your data in case of one disk failure. However, note that with a RAID1, you get only half of the NAS capacity for storing data because another half goes for redundancy — mirrored copies of data.
For a 3-drive NAS, choose a RAID-5 level. This array type gives you good performance and can survive a drive failure.
For a 4-drive NAS, RAID-5 is also a good option. For 4-disk NASes, RAID-6 and RAID-10 layouts are available as well, but these RAID levels require more disk space for redundancy. So, choose a RAID-5 if you are going to look at the NAS box regularly and launch the NAS control panel from time to time because doing so you can notice that something is wrong with the NAS and take actions not to lose data.
NAS hardware components
Various NAS devices use different processor models and a different number of processor cores.
Some devices consume more power than others but these differences are usually so insignificant (if we are talking about a home NAS) that we should not focus on discussing all these characteristics.
Random-access memory (RAM) is a component you have to pay attention to because the amount of RAM directly affects the performance of the NAS device. The more, the better.
NAS reliability
QNAP, Synology, NETGEAR, and Buffalo are popular NAS brands for home users.
NAS devices are reliable devices, especially if you use a fault-tolerant layout.
But:
Unfortunately, bad things can happen, and your NAS can fail and cause data loss.
There is little information about the reliability of NAS devices, but you can find research devoted to this subject on Reclaime.com.
Reliable NAS Devices
The co-author of this article and co-founder of ReclaiMe (a data recovery software company) Elena Pakhomova will share her opinion about which NAS models are considered to be the most reliable.
When they ask me which NAS to choose, the first thing I think about is how a particular NAS combines the drives and what file system is typically used. Because mainly these are the factors that affect the recovery result.

Being data recovery specialists, we like QNAP devices, since these devices use typical array levels and EXT4 file system.

However, there are difficulties with file undelete, because EXT4 discards the inodes (file metadata records) for the deleted files and, therefore, the recovery of deleted files is almost impossible.

Buffalo devices use an XFS file system that is also quite recoverable. However, 2-disk Buffalo NASes are peculiar in using the RAID-0 layout by default that can't be recovered if one of the drives fails.

As for the NETGEAR devices, they have recently switched from EXT to a btrfs file system which at that time was still under development. Btrfs isn't a typical file system but a hybrid of a file system and RAID controller.

Synology also uses btrfs in many devices. Besides, Synology uses its technology for combining drives of different sizes into single storage – they call it Synology Hybrid RAID (SHR).

It's often impossible to recover data from devices where SHR was used within a DIY approach.

Also, we often deal with Drobo devices that are completely different from other NAS devices in terms of data storage organization.

Drobo's recovery is very difficult, so, almost every case we faced required technicians' help for the customers.

So if I would choose a small NAS for home, then I recommend a NAS from Buffalo with RAID-1 or RAID-5 array type.
Disclosure: EasyTechGuides is a participant in the Amazon Services LLC Associates program, an affiliate advertising program designed to provide a means for us to earn fees by linking to Amazon.com and affiliated sites.
---