Fix: Reddit, Facebook, Instagram app not loading posts
This tutorial will show you step by step what to do when Reddit, Facebook, Instagram, or another app isn't loading posts (images and videos) or loading posts slow.
This simple solution works on all Android phones, such as Samsung, Lenovo, Motorola, OnePlus, ASUS, Nokia, Google, Sony, LG, and all other Android phones.
Steps
1. Make sure the app in question is closed.
2. Long-press (press and hold) on the app icon until a menu pops up.
3. Tap on App info.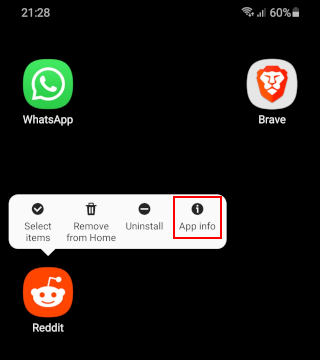 You can also open your phone's settings, tap on Apps, and then tap on the app with the loading issues.
4. Tap on Storage.
5. Tap on Clear cache located at the bottom.
Now, open the app and check if the problem is solved.
You probably need to repeat these steps every 1 or 2 weeks or so, depending on how much you use the app.
---
---
Maybe you're also interested in:
How to see which apps have access to your location on Android
How to scan and read a QR code on Android without an extra app