How to Unlink Facebook & Twitter from Instagram on Android
Want to unlink your Facebook or Twitter account from Instagram?
Then you are on the right page, because here...
...I will show you step by step how to easily and quickly disconnect Facebook or Twitter from Instagram on a Android smartphone.
This tutorial should work for all Android smartphones such as the Samsung Galaxy, Sony Xperia, Huawei, Lenovo, Motorola Moto, OnePlus X, Google Nexus, HTC, LG, and all other smartphones running Android version 4.1 or higher (Jelly Bean (4.1 - 4.3.1), KitKat (4.4 - 4.4.4), Lollipop (5.0 - 5.1.1), Marshmallow (6.0 - 6.0.1)).
Unlink Facebook & Twitter from Instagram
1 Open the Instagram app.
2 Go to your profile by tapping on your profile picture located at the bottom right corner.
3 Tap on the
(3 dots) button located at the top right corner of the screen to open the options menu.
4 Scroll down to "SETTINGS".
5 Tap on "Linked Accounts".
6 Tap on "Facebook" or "Twitter" or both to unlink from Instagram.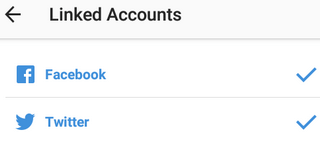 Your account(s) will now be unlinked (disconnected) from Instagram.
Related:
Android