How to Merge Multiple Images (JPEG, PNG, GIF) into One PDF in Windows 10
This tutorial will show you step by step how to merge (combine) multiple JPEG, PNG or GIF images into one PDF file in Windows 10 without using any extra software.
How to Combine Multiple JPEG, PNG or GIF Files into One PDF File in Windows 10
1. Go to the photos you want to combine into one PDF file.
2. Select all the pictures.
3. Right-click on the selected images and choose "Print".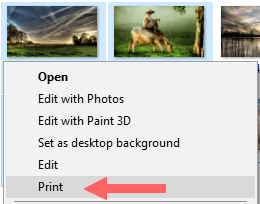 4. At "Printer", you select "Microsoft Print to PDF" (if not already selected).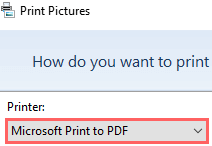 5. At "Paper size", you can select a paper size, like:
Letter
Legal
Tabloid
Statement
Executive
A3
A4
A5
B4 (JIS)
B5 (JIS)
"Statement" and "A5" do not work for multiple images.
6. There's also an option for selecting the quality (e.g. 600 x 600).
7. Select a layout at the right panel.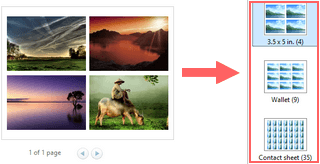 8. If you want the images to appear completely (in full width and height), then uncheck "Fit picture to frame" located at the bottom.
The "Fit picture to frame" option zooms images to eliminate blank space (might cut off edges of images)
9. If you want more copies of your PDF file, then select the amount of copies you want at "Copies of each picture" located at the bottom.
10. When you're done, you click on the "Print" button located at the bottom right of the window.
11. Select a location on your computer where you want to save the PDF file.
12. At "File name", you enter a name for your PDF file.
13. When you're done, you click on the "Save" button.
Microsoft Windows will now combine your images (jpeg, png or gif) into one PDF file.